We do it for tacos, dentists and hotels, why not for the police? A new service called Goalkeeper Score can help agencies gather real-time feedback on police interactions with citizens. The program allows citizens to anonymously rate interactions with police immediately after each encounter with police. I reached out to Burke Brownfeld, the service's co-founder and former LEO, to find out more.
What was the inspiration for this program?
I attended college with one of the co-founders and we had our first police job together at the William and Mary Campus Police Department. From then on, we became friends, both became police officers in Virginia after college, and for years we thought about the future of policing. I was already teaching classes at the police department on empathetic policing, and then, after the death of George Floyd, we sat down and thought about what we could do to positively impact the future of policing.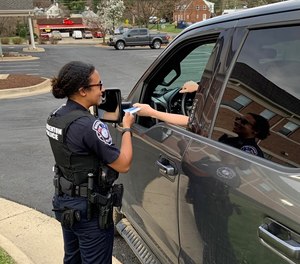 I started thinking back to when I was a police officer and I was asked to fill out a "productivity spreadsheet" every month. We received points for specific, quantifiable things like the number of arrests you made or the number of tickets you wrote. Even at the age of 21, as a rookie cop, I felt like this approach to performance appraisal didn't really capture all the work I was doing in any given shift. So we started thinking about what else we should be measuring when trying to define what it means to be a "productive" or "good" police officer.
Within the context of this idea that we manage what we measure, we realized that we may need to add to the list of activities or qualities that are measured to provide a more holistic view of police performance. As we developed this thought process, we studied research on procedural justice and it became apparent that the ideal police officer is not only measured on "what" they do during a shift, but also on "how" he treats the members of the community.
We wanted this data to be provided to police chiefs so they can understand how officers and community members are interacting, and what the comments are saying, with easy-to-use data analysis tools. We also wanted to open up a new way for community members to provide feedback, while turning it into real, actionable data. And as we discovered in the actual use of the tool, because we designed these questions around procedural justice, feedback from community members is generally quite positive and very focused on the individual traits on which we ask questions.
How does this differ from other types of community surveys?
Our product is unique for several reasons.
Typical community surveys that police departments relied on were often mailed to residents of the town or city within that jurisdiction. These surveys could be filled out by someone who may have never had contact with the police, but who may have a very strong opinion about policing in general. Ultimately, the reliability of the data was questionable and not always clearly actionable for a police chief. These surveys rarely focused on individual officer performance and were usually based on feelings or general feelings about a police department.
While these types of sentiments are helpful, we wanted to take it to the next level and get feedback on individual performance because ultimately, at 3 a.m., individual police officers are interacting with individual members of the community. Knowing how these interactions unfold is extremely valuable.
Our product is also unique in today's climate of community engagement because of the way it is constructed. We have deliberately chosen not to integrate our product with other police information systems. If our product were to be linked to an RMS system for example, and the survey was sent by SMS, think of all the people who do not receive this survey. What about traffic stops where no ticket was written? What about investigative detentions on the street, or even some arrests, where there may be no contact information for the person?
Those of us who have served in the profession know that the overwhelming number of interactions with the community are not even officially documented. If a police officer helps a lost tourist find a restaurant, it may have been a very positive police interaction, but who hears about it?
How it works?
Each officer receives cards that have the Guardian Score QR code with instructions on one side. At the end of a meeting, the agent returns the card to the community member. They can either scan the QR code or visit the link provided on the map. This will lead them to a 60 second survey.
We take the concept of data integrity seriously and want police departments to feel confident that the feedback they receive comes from real members of the community who have actually interacted with police officers. Accordingly, we have very intentionally constructed the QR codes to be unique QR codes, linked to the individual agent, on each card, and also, at the time an inquiry is submitted, that QR code can never be reused.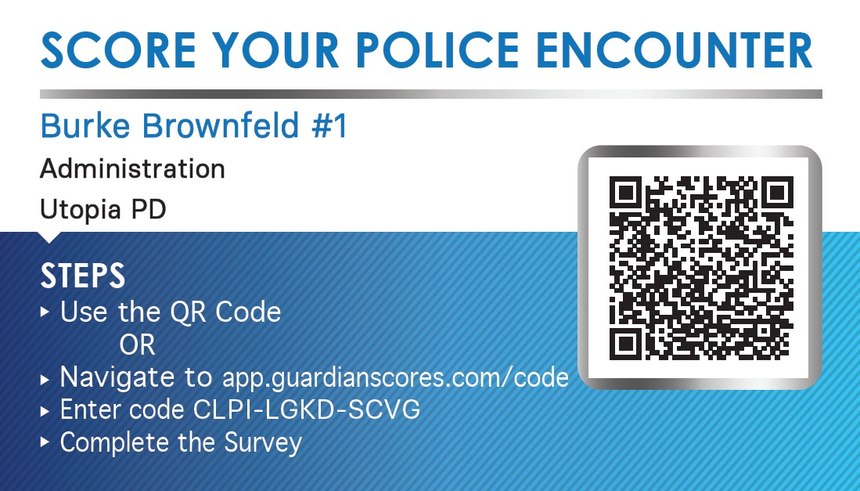 The anonymous survey asks several demographic questions and also asks what type of encounter took place (eg traffic stop, arrest, victim), then asks the community member to provide ratings on five specific behavioral questions.
Ratings are very easy, as we require them to use a 1-5 star system. Some of the traits they provide ratings on include topics such as listening skills, professionalism, and the ability to explain "why". Once that community member presses submit, the data immediately appears in the police department's Guardian Score dashboard, and supervisors can see what the scores look like, what feedback is coming in, and how different officers or squads are doing well relative to others within the service. . The rating numbers add up to what we call the Guardian Score itself. Every officer has an overall goalie score, every squad can have an overall goalie score, and even the department has a tabulated total goalie score.
How do departments use the data?
We are excited to see our current customers using the product and data primarily as a positive reinforcement tool. The data itself is designed to be used as part of a holistic performance evaluation program. This means supervisors can access the dashboard and track an agent's performance over time, in terms of key traits and overall. The supervisor is able to see how that officer is doing compared to other squad members and the department as a whole. This easy to use system allows supervisors to quickly digest and identify the stars of their teams, and can also help identify if there are certain areas where an officer may need coaching or mentoring.
We've seen that chiefs of police collect feedback from surveys and share it with the entire department to praise officers for a job well done or to highlight some of the really positive moments that happen on a daily basis. We also find that agents like to log into their profile to check their individual scores and reviews.
Additionally, because we have auto-generated reports, supervisors can run individual officer and team reports, and feed them into department-wide Compstat-like meetings, as a new accountability feature. Not only are supervisors now able to tell how well they are fighting crime in a particular area, they can also report on how their teams are treating community members, based on real data.
Of course, the more data and survey responses flow in, the more creatively the data can be used. For example, Guardian Score ratings could become very useful in promotional or specialized unit processes. For example, if people are applying to be part of the hostage negotiation team, one can quickly see the value of looking at Guardian Score data to help understand each candidate's overall skills.
How do departments fund the program?
We are active with several police departments in Virginia and Pennsylvania and are in discussions with other departments in California, Texas, Maryland and New York, including municipal and university departments. As a result, how people pay for it depends on their circumstances.
As noted in media coverage, the Warrenton Police Department in Virginia received financial support from a foundation. Other departments are leveraging their budget to pay for this because they've agreed that it solves multiple problems with one product. Due to the connectivity to community feedback and procedural justice, we find that departments receive strong support from their communities, city councils and even the media when they announce their intention to use our product.
Goalkeeper Score Preview from world sign on Vimeo.
For more information, visit GuardianScores.com.